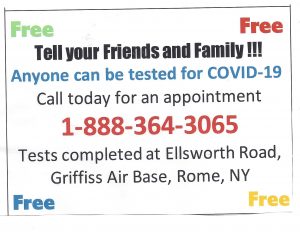 Monday 1:00 pm – 6:30 pm
Tuesday 9:00 am – 1:00 pm & 2:30 pm – 6:30 pm
Wednesday 1:00 pm – 6:30 pm
Thursday 1:00 pm – 6:30 pm
Friday 1:00 pm – 6:30 pm
CLOSED Monday 2/15/21
If you have any questions please call the library at 315-736-2532 or email oriskany@midyork.org

NOTICE: All AARP Smart Driver classroom courses will be canceled. If you need to take the Smart Driver course to maintain your insurance discount, consider taking the course online at https://www.aarpdriversafety.org/. Members get 20% off. At AARP, our top priority is the health and well-being of staff, volunteers, members and the community at large. This situation is dynamic and AARP will monitor it closely for needed changes to this timeline. The AARP Smart Driver Course is one of many programs offered by AARP Driver Safety. It's the nation's largest classroom and online driver safety course and it's designed especially for drivers age 50 and older. If you have any questions contact AARP at 800-569-1658 Monday-Friday 8am -5pm.

January 26, 2021 Oriskany Public Library Board meeting 6pm via email ( per County Executive Anthony Picentes' order on 12/9/20, all indoor regularly held meetings should be done via zoom) per COVID live update briefing on ocgov.net/news.
We are looking for volunteers to be our "Friends of our library." You would serve a 5 year term and provide oversight, governance, advocacy support and financial management to the organization. The commitment includes monthly Board and committee meetings and activities as scheduled by the respective committee chairs. Members are expected to commit time to Book Sales and to serve on one or more of the following committees: Book Sale, Membership, Marketing, Finance, Nominations, and Community Events.
If you wish to donate to our library (click on the donate button below to pay on-line with your credit or pay pal account). Your tax deductible donations will go towards much needed library renovations. Thank You!
Policies and Procedures ( Oriskany Public Library By-laws) ( see below the in section 4 to the change of our by-law in the trustees term of years effective September 22, 2020). per vote by the OPL board at 6pm on Sept. 22, 2020.
2020 Events On hold until further notice
Crochet/Knitting Club at the Oriskany Public Library. Call 315-736-2532 for a reservation. Have you ever been interested in learning how to Knit or Crochet? Or just knit and crochet while chatting with others that are interested in the same hobby? Well here is your chance, weather you are a newbie or an expert, come join us at the Oriskany Public Library on Mondays 6:30 pm, We will have an instructor here with supplies you will need to get started. The class is free and open to the public. Please call and reserve your seat today at 315-736-2532.
On hold until further notice. Have you ever had an interest in stamping? Well, here's your chance to give it a try. Come down to a beginners stamping class at the Oriskany Public Library at 6:00 pm on Mondays to make cards, with Stampin' up Demonstrator JoAnn Riccardi. To reserve your seat, visit or call the Oriskany Public Library at 315-736-2532. Don't miss this opportunity to learn different stamping and card making techniques. Class fee will be $8.00 for materials. Hope to see you there!
Since November 2019 our shed has earned $1266.78 Thank you to all that have donated your used goods!